Perry Greene was born on November 9, 1971, and from Georgia, USA, he is a construction company owner and best know as the husband of U.S. Representative Marjorie Taylor Greene.
Marjorie Taylor was elected to represent Georgia's 14th district in the 2020 election and served as a member of the Republican Party.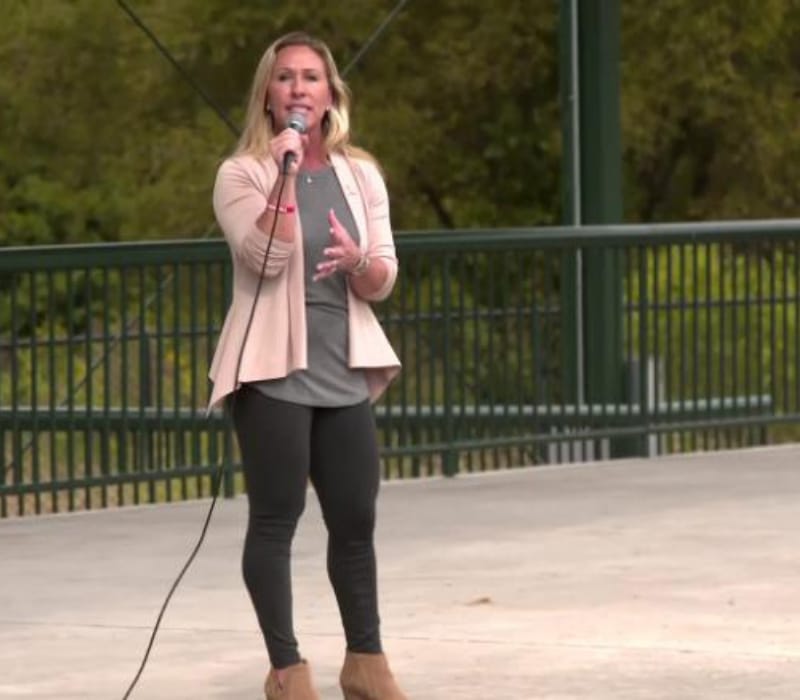 On January 17, 2021, her Twitter account was temporarily locked after the organization took action based on a company policy that "it recently used to remove thousands of QAnon-related accounts" after the storming of the United States Capitol. Before the account was suspended her posts included disproven claims about voter fraud and statements blaming electoral officials in Georgia for their failure to act on such (debunked) claims.
Recently, Marjorie Taylor Greene accused her Democratic colleague of lying and she is moving her office on Capitol Hill for safety reasons after being "berated" by a controversial Republican colleague. On January 29, 2021, Democrat Cori Bush Tweeted "A maskless Marjorie Taylor Greene & her staff berated me in a hallway. She targeted me & others on social media. I'm moving my office away from hers for my team's safety. I've called for the expulsion of members who incited the insurrection from Day 1. Bring H.Res 25 to a vote."
Then, Marjorie Taylor Tweeted "Rep. @CoriBush is the leader of the St. Louis Black Lives Matter terrorist mob who trespassed into a gated neighborhood to threaten the lives of the McCloskey's. She is lying to you. She berated me. Maybe Rep. Bush didn't realize I was live on video, but I have the receipts."
Know About Perry Greene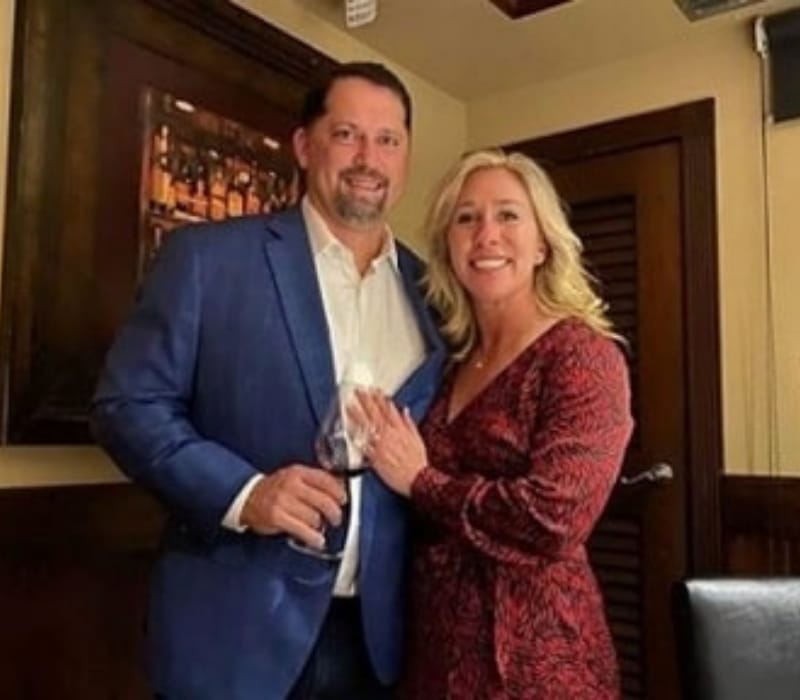 Curently, Perry is the President of Taylor Commercial, Inc. Taylor Commercial was launched in 1969 in Alpharetta, Georgia, as a general contractor business and he is the CEO, chief financial officer, and secretary of Taylor Commercial Inc.
The construction company was founded by Marjorie Greene's father. Previously, he served as an accountant at Erns & Young and served there from 1996 to 1997.
Besides this, Perry appeared willing to move to support his wife's decision to campaign in Georgia's 14th district. Talking about his social media reach his Instagram account and personal Twitter accounts are set to private, however, it's unclear whether Perry agrees with her theories or if he supports the QAnon conspiracy theory.
On his Facebook account, Perry's profile picture includes his wife's campaign slogan. Later, in August 2020 he was seen wearing an OAN shirt in an Instagram video alongside his wife.
Age
How old is Perry Greene? He was born on November 9, 1971, and from Georgia, USA, he is 50 years old as of 2021.
Wife
Perry Greene and Marjorie Taylor Greene tied the knot on August 11, 1995, and the couple married for nearly three decades, the duo got married while they were both still college students at the University of Georgia.
On August 11, 2020, she marked their 25th wedding anniversary with a tribute to her husband on Facebook, she wrote "25 years ago, I said 'I do.' Perry Greene and I have had some great adventures, but the best thing we've done has been being blessed with our 3 children. Perry, thank you for being my best friend and biggest supporter always! I love you!!"
They share three grown children: Lauren, Taylor, and Derek, Lauren is a professional photographer and specializes in portraits and landscape photography. Then, Taylor is studying at the University of Arkansas and was on the softball team.
Derek is either still in high school or a young college student.
Net Worth
His Net Worth is $2.5 Million USD as of 2021. He stands 5 feet 11 inches tall and weighs around 86KG.