Online shopping is becoming increasingly popular across the world. Easy access, quick delivery, and attractive discounts are all factors that have contributed to making online shopping platforms successful. It has already become a multi-billion dollar industry. For owners of online stores or those businessmen who are thinking of starting online ventures, we have 8 important and interesting statistics about online shopping trends in 2021. These fats and numbers will give you the complete information needed to put together an effective marketing approach. Let's get started.
1. Amazon is the leading mobile shopping app.
A study in September 2019 indicated that, on the basis of reach, Amazon was the most popular trends online shopping app. This implies the importance of mobile apps and mobile commerce for the success of e-commerce.
2. Globally, retail e-commerce sales are said to be around $3.53 trillion, and revenues for e-retail are estimated to go up to $6.54 trillion.
Clearly, online shopping is growing at an extremely fast pace, and there is statistical data to support this claim. This indicates the changing dynamics when it comes to shoppers and their buying habits and patterns. This is pure because online shopping allows users to buy quality products and services from the comfort of their homes, with just a swipe or a click.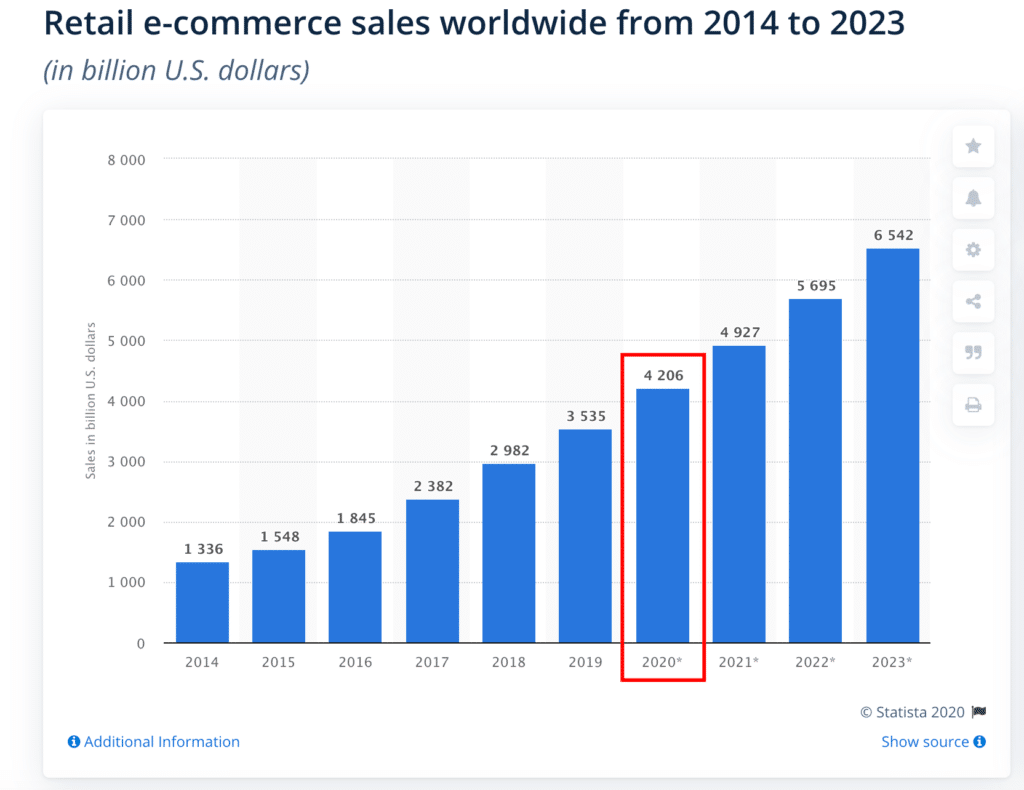 3.5% of people shop online at least once a month.
It is important to note that a vast majority of online shoppers shop quite frequently. According to a recent survey, 20% of shoppers shop online once a week, 24% shop online every two weeks, and 31% shop online once a month.
4.By 2021, mobile devices will account for 53.9 percent of all e-commerce sales.
A recent study suggests that soon the majority of online shopping will be done from mobile phones rather than desktops and laptops. This again shows how the promotion of mobile devices and apps encourages success and increases the user rate for e-commerce apps and websites.
5.As many as 59% of people shopped for clothes while shopping online.
An online businessman might also want to know which category of products has the highest demand in the market. Well, you guessed it right! Clothing is the king of online sales. About 59% of the shoppers go for it.
6.On the basis of the average amount spent by every shopper online, the UK is the world's biggest online-spending nation.
As per figures from the year 2015, the UK tops the list of the world's online-spending nations. The average online shopper spent nearly $4201, higher than any other country. It is followed by the USA with $3428. Americans also spend a large share of their time on e-commerce websites (nearly 5 hours a week).
7. Direct to site, email, and SEO are the best traffic sources.
Every online store needs a healthy amount of traffic. For this purpose, direct to site, email and SEO were found to be the best traffic drivers.